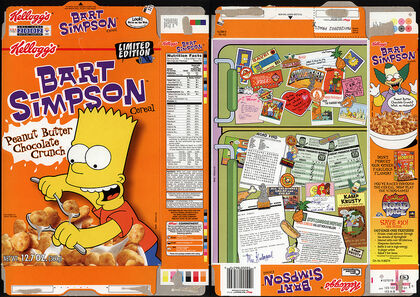 Description
Peanut Butter and Chocolate Cereal
Notes
For a short time in 2003, Kellogg's released two additional Simpsons-related cereals in the UK. They were called Bart Simpson's No ProblemO's and Eat My Shorts. The former consisted of frosted multi-grain cereal loops and mini chocolatey biscuits with characters from the Simpsons cartoon etched on the surface. The latter was made up of frosted, golden, syrup flavored, multi-grain cereal in the shape of Bart's shorts.
Company
Kellogg's
Advertising Character
Bart Simpson
Introduced
2001
Discontinued
2002
Marketing
(No commercial available)
Other Varieties
Homer's Cinnamon Donut Cereal
Community content is available under
CC-BY-SA
unless otherwise noted.