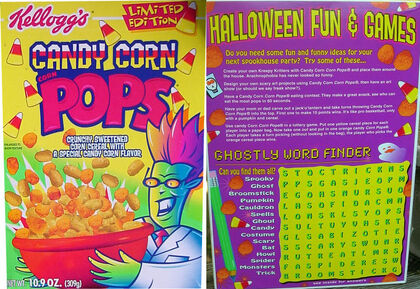 "Crunchy Sweetened Corn Cereal With A Special Candy Corn Flavor"
Not much is known about the Halloween-themed, candy corn-flavored Pops cereal.
Kellogg's gave us three Halloween-themed cereals in 2001: Halloween versions of Jack'O'Lantern Apple Jacks, Kreepy Rice Krispies and Candy Corn Pops.
Kellogg's
a mad scientist with green skin and rainbow hair
2001
2001 u need to bring this cereal back out its the best corn pop cereal ever.
Jack'O'Lantern Apple Jacks and Kreepy Rice Krispies
Community content is available under
CC-BY-SA
unless otherwise noted.